Never has the extraordinary power of giving shown more impact on patient outcomes than at the 2023 Metro North Research Excellence Awards, announced Thursday 2 November.
Clinician researchers, from across the Herston Health Precinct, who have been supported in their careers thanks to the generosity of RBWH Foundation supporters were named in seven out of the ten categories and named winners in all but three of those.
Before an audience of some of Australia's brightest medical minds, the RBWH Foundation Board Chair Susan Buckley said the Research Excellence Awards represented everything the Foundation worked tirelessly for, to advance patient care and life-saving research by connecting our Community of Givers with the most powerful opportunities to make a difference.
"News of the brilliant projects we have heard about tonight will make its way into homes and board rooms across Queensland, and indeed Australia, as the RBWH Foundation shares your discoveries with our donors – the community which makes our support of you possible," said Ms Buckley.
"Your work excites and motivates our supporters and unites us in our common mission of advancing patient care and life-saving research."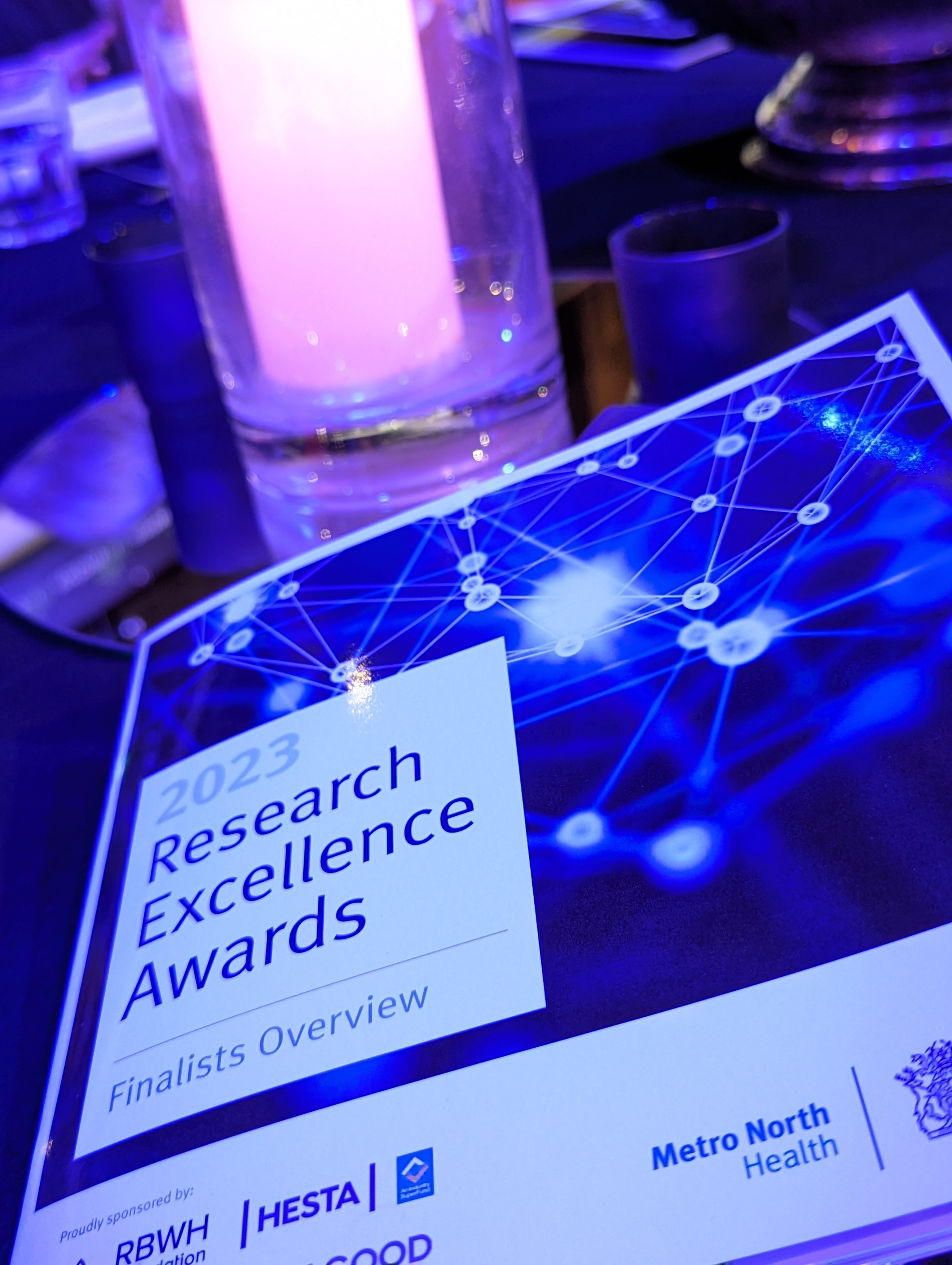 Anticipation is now building for the next round of RBWH Foundation grants, due to be announced on Wednesday 12 December. A record 80 submissions, representing $3 million worth of projects, are under consideration.
Ms Buckley said only one in six could be funded in the round.
"These clinician-led projects are limited only by funding and our promise is to continue to grow our donor base, ensuring these ideas are not wasted," said Ms Buckley.
Help the RBWH Foundation support world-class patient care initiatives and life-saving research, such as this, by donating today.
2023 Metro North Research Excellence Award Winners
Researcher of the Year
Winner:
Professor John F Fraser
Finalists:
Professor Leonie Callaway, RBWH Women's and Newborns Service Director of Research *
Eamonn Eeles
Chief Executive Award
Winner: Professor Owen Ung, Comprehensive Breast Cancer Institute *
The Professor Joan Webster Nursing and Midwifery Award
Winner: Professor Nicole Marsh, RBWH Nursing and Midwifery Director of Research *
(Pictured with Metro North Health Chief Nursing and Midwifery Officer and RBWH Foundation Board Member Alanna Geary (R))
Rising Star Award
Winner:
Associate Professor Teresa Brown, RBWH Dietetics Assistant Director * (Pictured, Left Top)
Highly commended:
Associate Professor Andrea Henden, RBWH Clinical Haematologist * (Pictured, Left bottom)
Finalists:
Dr Monica Suet Ying Ng, Final year kidney registrar *
Hollie Bendotti
Research Support Award
Winner:
Dr Mahesh Ramanan

Highly commended:
Professor Nicole Marsh, RBWH Nursing and Midwifery Director of Research * (Pictured, right)

Finalists:
Associate Professor Victoria Eley, Senior Staff Specialist, RBWH Anaesthesia and Perioperative Medince *
Dr Deanne August, Nurse Research Co-ordinator for the Grantley Stable Neonatal Intensive Care Unit *
Consumer in Research Award
Winner:
Optimising consumer choice in telehealth: Metro North Telehealth Co-Design Project
Finalists:
Direct to Psychology Insomnia and Stepped Care Models: Sleep Disorders
Service Innovations
Co-designing an exercise intervention to prevent paraatomal hernias
ICU of the Future
Discovery and Innovation Research
Winner:
Treatment of multi-drug resistant Pseudomonas aeruginosa by removal of 'harmful' antibodies
Finalists:
Novel Radiation Shielding to Reduce Radiation Exposure
Redcliffe Hospital Urology team – leading discovery and innovation to benefit patients with urologic cancers and conditions *
ICU of the Future
Clinical Research Award
Winner:
CAR T cells: a new frontier in cancer care for establishing the capacity to manufacture CAR-T cells within the Cellular Therapy Laboratory *
Finalists:
The Living Heart Project

Implementation of pre-treatment genotype guided personalised dosing to reduce severe toxicity from chemotherapy
Complex Health Challenges
Winner:
Integrated Children's Care Collaborative (ICCC)
Finalists:
Improving Diabetes Outcomes Across Queensland- The Inpatient Diabetes Working Group
The IV Passport
The Kidney Supportive Care Research Group
Research Implementation Award
Winner:
Lung cancer screening – Australia's 4th national screening program
Highly commended:
Implementation Support Groups
Finalists:
Living Well During Pregnancy
Thrombin–gelatin matrix (Floseal) to prevent post-dental extraction haemorrhage in patients with inherited bleeding disorders
*past and present RBWH Foundation grant recipients